Landscape Resource List
Download Putting Your Garden to Bed, notes from Sep. 25, 2019 meeting presentation.
Download Know What to Grow, a resource list from Duluth CISMA.
Native Plant Podcast
The Native Plant Podcast, www.nativeplantpodcast.com is designed for gardeners and landscapers who want to learn more about native plants in the landscape. Check their archives and special events, which feature well-known experts. Listen & learn while you wait for Spring!
Winter Sowing Handout
Native Plant Nursery Listing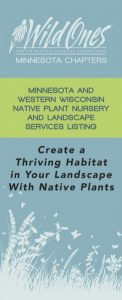 Minnesota Noxious Weeds; includes Native and Non-native Look-alike Species for Comparison.
Produced by the MN Dept. of Transportation. (photos, descriptions, methods for removal, etc.)
https://www.dot.state.mn.us/roadsides/vegetation/pdf/noxiousweeds.pdf
Local Sources of Native Plants
"How To" Information
Blue Thumb
The Blue Thumb program aims to encourage homeowners to use native plant gardening, rain gardens, and shoreline stabilization to reduce runoff from their home landscape in an effort improve water quality. One element of the Blue Thumb program is an easy-to-use website for homeowners seeking native plant gardening information. Another key component is a rain garden installation manual for homeowners co-developed by Minnesota landscape ecologists Dan Shaw and Rusty Schmidt.
More Great Websites
Butterfly Garden Designs
Minnesota Native Plant Society
MN DNR Landscaping with Native Plants
US Forest Service Celebrating Wildflowers
Minnesota Wildflower Information