Winter Sowing Handout
Native Plant Nursery Listing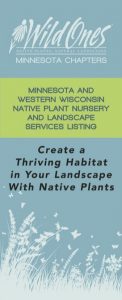 Minnesota Noxious Weeds; includes Native and Non-native Look-alike Species for Comparison.
Produced by the MN Dept. of Transportation. (photos, descriptions, methods for removal, etc.)
https://www.dot.state.mn.us/roadsides/vegetation/pdf/noxiousweeds.pdf
Local Purveyors of Native Plants
Leaning Pine Native Landscapes
3130 S Camp Amnicon Rd, South Range, WI 54874
Phone: (715) 398-5453
"How To" Information
Blue Thumb
The Blue Thumb program aims to encourage homeowners to use native plant gardening, rain gardens, and shoreline stabilization to reduce runoff from their home landscape in an effort improve water quality. One element of the Blue Thumb program is an easy-to-use website for homeowners seeking native plant gardening information. Another key component is a rain garden installation manual for homeowners co-developed by Minnesota landscape ecologists Dan Shaw and Rusty Schmidt.