Wild Ones will be visiting the gardens of Vicki and Terry Anderson in Cloquet. They bought their home in 1976 and have worked in the yard and gardens ever since to conquer challenges and discover unexpected treasures in the three levels of their yard. Vicki claims title as "the plant person" while Terry is "the builder" of fences, retaining walls, and walkways. He was one of the first Master Gardeners in the state of Minnesota! Their yard is filled with many native plants along with window boxes, urns and pots, and other non-native areas. Their gardens have been featured in the July 2015 issue of Northern Gardener magazine. Come and enjoy a walk through these lovely gardens in Cloquet.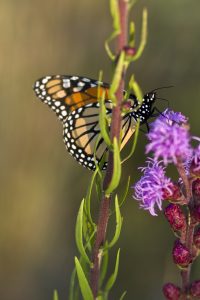 Directions to the Anderson's garden tour:
South on I 35 to Hwy 33. Turn right and go into Cloquet. Turn left on Avenue D.
The address is 406 Avenue D, Cloquet. The property is on the left side. Park along the street, which is a dead-end.
Wish to carpool from the Rose Garden parking lot at 5:45 pm? If interested, please contact Cathy Wood (kcduluth@msn.com)
Mark your calendars for this future meeting/event:
Tues. August 30 – Field trip on Minnesota Point 6:30 – 8 PM
If you enjoyed the March presentation by Rebecca Holmstrom (MN DNR biologist), join this hike. Rebecca will guide us through the native plant communities in the natural areas near the tip of MN Point. Meet at the Park Point airport parking lot. Wear hiking shoes and long pants. No rain date.