Weds. April 27 – Pollinator Revival: Impact of Harmful Pesticides, Managing our Landscapes to Provide Healthy Habitat for Pollinators.
Hartley Nature Center 6:30 pm socialize, 7:00 pm program
Presenters: Marilyn D. Jones and Julia Vanatta. http://pollinatorrevival.org/
Pesticides have become the quick fix to address various farming and gardening problems. Pollinator Revival co-founders, Marilyn Jones and Julia Vanatta, will share a bit of the history of pesticides along with safer options for pest control. They will also illustrate how we, as gardeners and landscape professionals, can help populations of pollinators and other beneficial insects recover by making simple changes to how we maintain our landscapes.a grassroots initiative to protect pollinators from further decline by educating retailers and stopping the sale or use of pesticides known to be harmful to bees and other beneficial insects.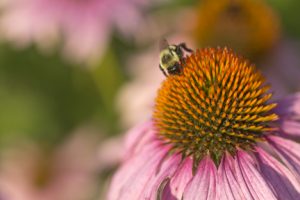 Julia Vanatta is Co-president of Twin Cities Chapter of Wild Ones. Also part time clerk at local hardware store where interaction with customers allows her to be a voice of reason, helping gardeners make informed decisions about pesticides. Fascinated with insects since childhood (small town northwest of Bemidji), Julia began researching non-toxic insect control in 2002, which led her to native plants and the need for diversity. Retired art director and semi-retired project manager of old home restoration.
Marilyn Jones is currently Co-President of Wild Ones Twin Cities chapter (native plants, natural landscapes) and co-founder with Julia Vanatta of Pollinator Revival which focuses on reducing toxic pesticide use by home gardeners. Marilyn is a retired teacher and Assistant Superintendent for school finance. She is a MN Master Naturalist having completed the Prairies/Potholes and Big River/BigWoods training sequences, and will be completing the third biome Northwoods/GreatLakes biome in August.
*Spend time with these speakers before the program: Weds. Apr. 27, 5-6:00 pm soup supper at Cathy Wood's home 3700 E. Superior St.
*Discussion with these speakers: Thurs. Apr. 28, 9-10:00 am At Sarah's Table/Chester Creek Café (breakfast optional)
**RSVP to this email or to Cathy: 218-724-1196, if you plan to join either meal